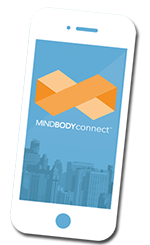 Want to schedule on the go? Download the MINDBODY Connect Mobile App.
Infinity scheduling is available on your smartphone or tablet through the MINDBODY Connect app. To get started:
Click here to get the free MINDBODY Connect app. (Also available on iTunes and Google Play).
Once installed, follow the on screen prompts to setup your personal account.
Enable your location settings, and search for "Infinity Massage and Wellness."
Select Infinity and add it to your Favorites.
Questions? Contact us directly.