Beyond our massage services, Infinity Massage & Wellness offers a wide variety of retail products. From essential oils and body butters to teas and organic chocolates, Infinity offers products that make the perfect gift for yourself or a loved one. Infinity is committed to carrying natural, local and organic products to extend your wellness experience.
Shop our full selection of retail products online and order for convenient in-store pickup. Visit our online store now!
---
Essential Oils
Infinity carries essential oils from Young Living, Aromatics International and dōTERRA®.  Used throughout history for their medicinal and therapeutic benefits, essential oils can be used as natural alternatives in holistic self-care practices. Their unique chemistry allows them to be used aromatically and applied topically to the skin, while other essential oils can be used as dietary aids to promote vitality and well being.
Shop online now or visit dōTERRA® or Aromatics International for more information.
Wildroots
Wildroots body care essentials are all natural, super luxe treatments for your mind, body, & soul. Infinity offers a wide selection of Wildroots products such as body butters, balms, scrubs, oils and so much more. Product selections rotate often so be sure to shop now to see the latest.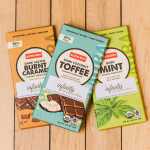 AlterEco Chocolates
New! Everyone deserves a sweet treat now and then. Indulge with delicious, organic fair trade chocolates from Alter Eco. Infinity carries a variety of flavors in bars and truffles such as mint, salted caramel, almond, toffee/coconut, velvet and more. Shop now!
Teas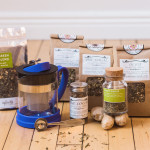 A warm cup of tea is the perfect way to relax after your massage or a long day at work. Infinity is proud to serve and carry Yogi,  Anhata Herbals and Snooty Fox Teas. Yogi Teas are certified organic and sourced from providers using sustainable farming methods. Anhata Herbals is a local company, producing 60% of the herbs used in their teas on their property in Duluth, MN. Also located in Duluth, Snooty Fox offers a wide variety of teas. Now you can enjoy teas that taste wonderful while being good for your health and the planet. Browse our wide selection of flavors.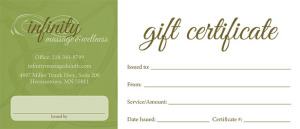 Gift Certificates
Massage is always the perfect gift. Gift certificates are available for purchase online or stop by the office.